Starting with the unmatched construction quality and show-quality rigging provided by DCB Performance Boats in Southern California followed by the genius paint job applied by Mark Morris and the team at Visual Imagination in Missouri, Lickity Split was produced with the utmost attention to detail using only the finest products available.
Twin turbocharged Mercury Racing 1350 engines coupled with the company's M8 drives and 39"-pitch propellers push the boat in the 160- to 170-mph range with ease. The latest technology is on display in the form of Mercury's DTS Zero-Effort Digital Controls and a six-person Race-Keeper intercom system with carbon-fiber headsets.
Also from Race-Keeper is an HDX2 Video Data Logger with two high-definition cameras—one facing forward, the other to the rear—on one-off CNC billet mounting brackets attached to the acrylic windshield's center support post. Spanning the dash are three Garmin GPSMAP 8208 chart plotters and two Mercury Racing VesselView 7 displays. To make sure the four rear seat passengers can see what's going on, a Garmin GMi20 GPS monitor is provided in back of the front seat headrests. The system also includes a back-up camera flush mounted on the integrated swim step.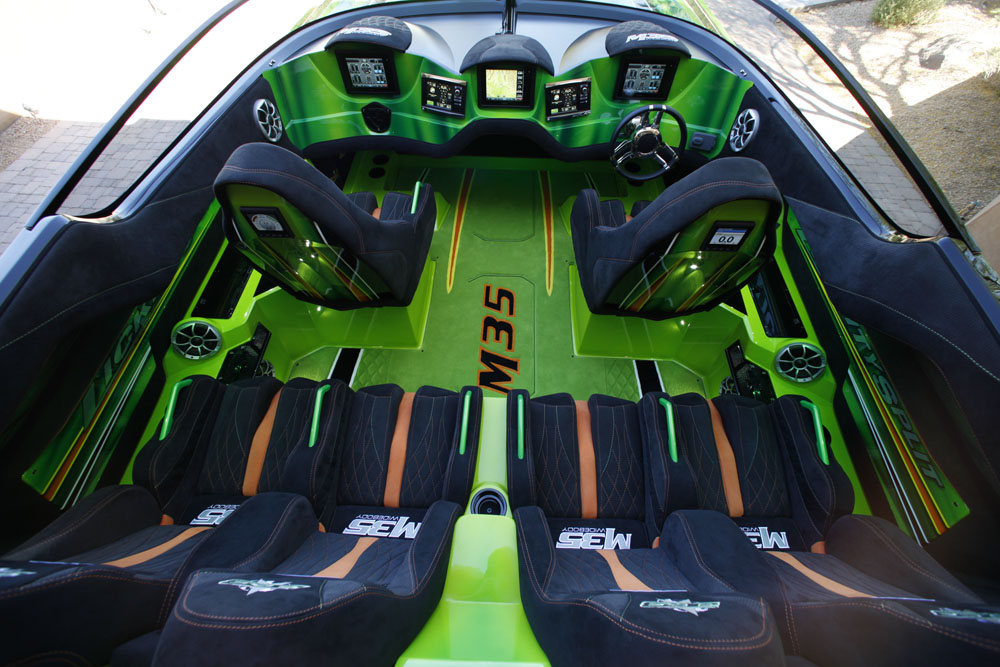 Of course, Lickity Split has a rockin' stereo system that includes a Fusion MS-UD750 head unit, four JL Audio amplifiers, six Wet Sound midrange speakers and two JL Audio subwoofers.
Featuring DCB's all-new split bolster seats and beautiful orange and green stitching, the boat's 100-percent Alcantara interior is extraordinary. Factor in the upholstered dash pads, the wrapped and padded bulkheads under the deck, the double-panel, twisted-diamond-patterned seats with low-profile grab handles, and it's easy to see why Lickity Split is a game-changer.
The fully capped M35 Widebody sits on a trick triple-axle Extreme Custom Trailer with custom green LED show lighting, a triangular end drive guard and 18-inch black and green mag wheels with two matching spares mounted on the undercarriage. The boat even has two service ladders with full power and vacuum hookups to make cleaning or working on it easier.